Day 25: Look Through Any Window
24 August 2006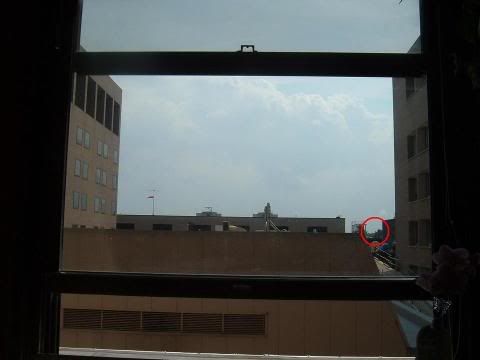 So this is the view from my window. Becca's right next door to me, so her view is pretty similar. As far as scenery goes, it leaves a little to be desired. However, the only time I really look outside is while I'm eating. That little orange thing on the roof to the left is a windsock, so if I can't be outside in the wind, I can know which way it's blowing. The landing/takeoff pad for the life flight chopper is just beyond that, so I get to hear/see it a few times a day. Inside the circled area are the only trees I can see. So that's how I get to watch the fall start to happen, in those trees way off in the distance, across Carnegie Avenue. It's my favorite time of year, and though I'm a little bummed that I'll miss the beginning of jacket weather, it'll still be nice when I do get out, just in time for Halloween.
Been battling vertigo for a few days. I had to cut exercise short on Tuesday and skip it altogether on Wednesday. It's a lot better today, after a few doses of Antivert, and I got through exercise today without incident.
I finally finished my first book,
I Am Charlotte Simmons
, by Tom Wolfe. I can't say it wasn't great, but I do wish it didn't occupy me for a whole month. I'm starting tonight on
Lake Wobegon Days
by Garrison Keillor.
In other goals, I've been studying lots of 7-letter words for Scrabble. there are 1,219 of them in the group that I'm studying (Type II 7s, which are the words that come from high probability letters [ADEGILNORSTU] but don't come from any of the top 100 bingo stems.), and I'm doing them 100 at a time. I really hope to have them under my belt by the beginning of October.
Finally, a note to those of you who have sent e-mails: The firewall here at the Clinic, for some reason, does not allow us to send e-mail to AOL addresses. So, if you've sent one to either of us, we're not ignoring you. We're just unable to write back.
19:05 :: ::
permalink
2 Comments:
Hey! George!

I'm glad we finally got to talk today, it's been awhile. Looking forward to paying you a visit as well. You'll have to let me know beforehand if you'd like for me to bring you anything. I want to try to visit within the next few week sometime. Until then... take care!

By 22:50 , at